PRESIDENT'S MESSAGE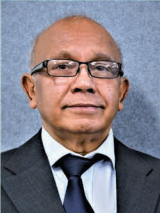 Sri Lankan Study Centre for the Advancement of Technology
and Social Welfare (SCATS Australia), began 30 years ago in
1992 with the far-seeing vision of the founder president, Mr.
Gamini Perera OAM. SCATS has achieved many outstanding
results in Sri Lanka and in Australia from its beginning. The
30th Anniversary is a significant milestone for SCATS. Dr.
Senake Perera, OAM, documented SCATS achievements in
his book, Journey of Service and in this publication. The fact
that 5 OAM honours recipients were born from SCATS in
various years is an outstanding tribute to the organisation and
it is wonderful that including Mr Wasantha Perera OAM, three
of these honours recipients are serving in the Executive
Committee of SCATS today.
Innovations competition Program was launched again for the
second time and innovative minds in our society have now
been selected to acknowledge and encourage them for their
novel thinking at the awards ceremony of the 30th Anniversary
celebrations of SCATS. The Art Competition was launched
again by Mr. Vijaya Karunasena. The winners will be
recognised at the SCATS awards ceremony for their original
expression and creativity. Our newest program is the 'Excel in
English Speech' using Zoom technology for students in rural
schools in Sri Lanka. Mr Rohana Peris of SCATS is providing
his great skills in teaching in this program.
My sincere gratitude and admiration goes to the current
SCATS Executive and the other committees of SCATS for
their commitment and devotion in achieving credible social
contributions through corporation, and teamwork.
I cordially invite you to join SCATS – a dynamic association
Where you can express your valuable talents, develop and your
abilities, and share your goodwill. It is together, that we make
this world a happier and more fulfilled place. Join us in sharing
the brilliance of Sri Lanka with the world.
― Dr B Hemantha Rohitha Ph.D.
President of SCATS